There is so much going on in my life – mostly exquisitely good – that I am not sure how to express myself. How do I capture the full spectrum of how wonderful things are in words? Spring is only a few weeks away and the weather seems to be battling the future. While we've had beautiful spring days with a high of 61 degrees, there have also been days like today where it is 45 degrees; however, I have been spending a good portion of my time indoors. Not because I'm necessarily lazy, but because I have work to do. I'm a writer. I must finish my current project.
I do look outside and daydream about summer, which is only around the corner, and picnics in parks and sitting along the Quai de la Tournelle at night drinking wine and eating lovely cheeses with other expatriates or my Parisian friends. Long walks around Paris by myself or with a visiting friend – usually from Los Angeles or New York City – that last for hours and includes random stops at cafés for either a café allonger or un verre de vin. In the summers we seem to drink a lot of rosé.
When I have finished my current project, I will venture outside. That will be my reward for finishing. I have a lot on my plate! I am also applying for another visa: the Compétence et Talents Visa (or the Skills and Talent Visa.) I have two friends who already have the visa – a fellow filmmaker and a musician – and they are both helping me put together a 70-page proposal to give to the French Préfecture. My lovely Parisian girlfriends have also offered to help me translate, as well as be mental and emotional supports over a bottle of wine. (We like our wine here.)
While I have lived in Paris, there have been so many wonderful opportunities that have remained out of my grasp due to me being on the Visitors Visa. I am not allowed to legally work in France. I have had to actually turn down a few jobs. (Hence my applying for the S&T Visa, which would allow me to be paid for any job affiliated with my proposed project.) So I remain in my home office diligently working on my future in hopes for the chance and opportunity to make my dreams come true.
Actually, in all truth, I have been fortunate enough to already be living my dream life. My two year anniversary in Paris is quickly approaching and will be celebrated on June 4th. While things have been tough – as I watch my savings dwindle – I count myself to be so very fortunate. I live in a cute apartment in Nation, which is actually large in Paris standards. And I have a small room off my bedroom that acts as both a dressing area AND a cozy home office. What's not to love about life?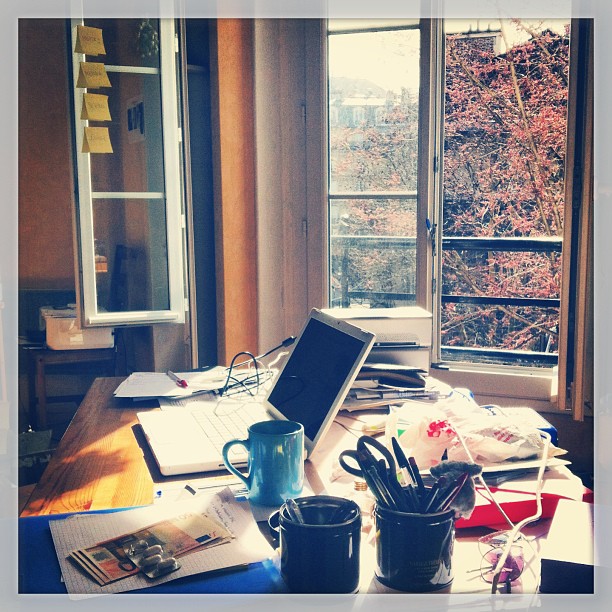 ~ My Home Office ~