I have thought in images all my life. At the rip old age of five, I would sit in my living room – in Kuala Lumpur, Malaysia – with a thick stack of blank paper and draw different scenes while talking out loud to myself, as if reciting a script in my head. I would progress from drawing to drawing – or shot to shot – and lay the finished images out on the floor in front of me. A story would soon unfold through the drawings. Looking back on it now, I was drawing something akin to a storyboard.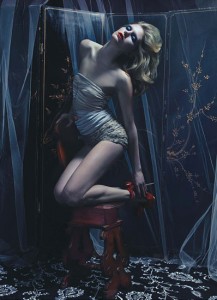 Mario Sorrenti
The images in this entry have all come to inspire me in different ways during the writing of my next film. Some are inspirations for wardrobe and production design, while others are simply blue prints for shots that I have in my own mind.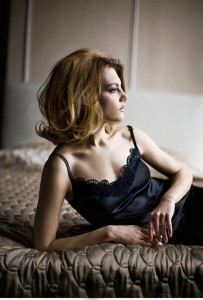 Russell James
As I write, I constantly look through photographs for inspiration. These photographs influence my writing as well as some of the ideas I have for actual shots. I pour over images in hopes that something will inspire me. I look at art photographers, like Edward Weston and Man Ray. I look at fashion photographers, like Mario Sorrenti, Paolo Roversi and Mario Testino. I collect images in folders on my laptop.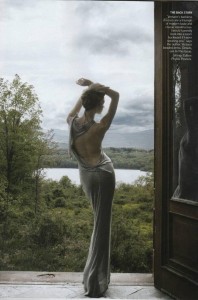 Annie Leibovitz
Some filmmakers – like myself – are inspired by paintings, drawings and photographs. I remember listening to Terry Gilliam interviewed in Cannes (May, 2009) and how he said he was not necessarily inspired by other films, but by paintings. I do find lessons are found in the structure of other films – what to do and what not to do – while visual inspiration can be found in an Andrew Wyeth painting, a Russell James fashion photograph or your own photograph of a chance encounter out in the world.