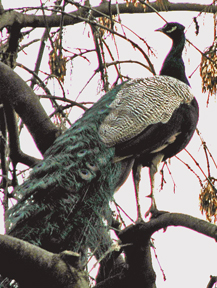 My Phoenix – aka a Czech Peacock
A re-printing of "Phoenix From The Flame"(WEDNESDAY, SEPTEMBER 12, 2007)
I have the desire to make sure my life is secure. That I'm doing things right. That I'm living my life the way I should. I love that feeling of security. Centeredness. Assurance. The knowledge that the path you chose in life is the right one.
Sometimes you get sidetracked and go off on tangents, but how wonderful it is to get back on track. Sometimes you need the time spent smelling the roses on the side of the path. Sometimes you need to slow down your pace or just stop walking/running/sprinting all together. Sometimes you need a distraction.
Lately I've been balancing work, my health and my social life pretty well. I don't feel off track, although I do realize that I am burning the candle at both ends. And I have the burns to prove it. Sometimes you have to burn your candle at both ends. You burn brighter. You burn brightly. And sometimes it is necessary to live this way. It's like the phoenix rising from the ash. It has to combust in order to move forward.