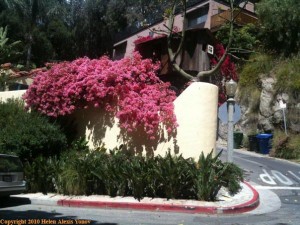 The Beauty of Beachwood Drive
The weather. Certainly one's affinity for a city cannot be based on the weather forecast; however, if you poll most Angelenos, you may find that the sunshine ranks high on their list of reasons for living in (and loving) Los Angeles. Perhaps most of those people are transplants from Ohio or Colorado or New England – as I am – but even some locals remain due to cloudless afternoons and respectably warm nights.
It doesn't mean that LA doesn't get chilly. But that's just it. Chilly. One rarely hears the world "cold" without a trace of a sarcastic smirk. My friends in Boston suffer through 20-degree winters, while I enjoy a 75-degree December. I cannot complain. I should never complain.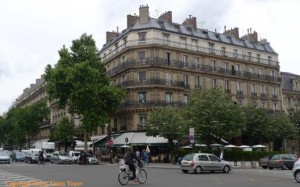 Paris, 2009
I do desire to spend my warm late-spring to early-fall days strolling down Saint-Germain-des-Prés – as the city of Paris has claimed part of my heart – but I have recently realized that I want to spend my cooler months in a more forgiving climate. I have momentarily considered the Mediterranean… but my thoughts always return to Los Angeles and my little 1920s Hollywood Bungalow that sits at the base of the Hollywood Hills.
Every day, as I walk out of my house, the Hollywood Sign greets me. I look up my street and I see the clear blue sky, trees and hills surrounding those tall white letters. I have a wildlife playground – with hiking trails and dog parks – only a few steps away from my front door. At the top of Beachwood, I run under a canopy of trees while passing beautiful old homes that have history and have seen Hollywood grow up around them.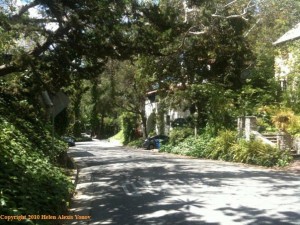 A Canopy of Trees
Sometimes in the early morning, I will run up and down my street and my neighbors will say "good morning" as they too begin their day. As one passes other runners or walkers, we nod and smile at each other. This is part of our morning ritual. It's as if we have a secret society.
The sense of neighborhood seems far greater here than in other parts of Los Angeles and this is one of the reasons I love to run up Beachwood and through the hills on Hollyridge Drive. There is a sense of community that is felt between strangers living on the same street, who are simply living out our lives in a warmer climate. The people here seem somewhat removed from the fast paced intensity of Hollywood. They have stopped and smelled the roses and have looked up to admire the clear blue sky above them. Maybe they are more aware of the World around them.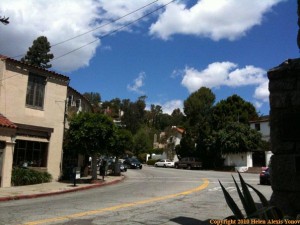 Beachwood Market & Square
I have only recently stopped to take a look at what I have around me. I have spent too many years wanting to be somewhere else. But when I run past my Great-Grandmother's house on Canyon Drive – which is still covered with pretty, little fuchsia flowers – I see that my own history is visible here. I am the fourth generation to call Hollywood my home. Perhaps I don't need to look for my place, because it was always waiting for me.